Heritage worth celebrating
Capitol Records was born in the early 1940's, not long before Paul Klipsch launched his iconic speaker company. Since then, both ventures have heavily influenced the listening experience of music lovers all over the globe.
Built to rock
The Capitol Heresy III provides rich, lifelike sound with crystal clear detail. It's impressively efficient, so you get terrific sound without needing a ton of power. Both its midrange driver and tweeter use Klipsch's famous horn-loaded design. A 12" woofer rounds out the low end with powerful, accurate bass.
Proudly made in the USA
The Capitol Heresy III is designed and built in Hope, Arkansas. The back of each one sports a plaque that's hand-signed by the speaker's craftsman.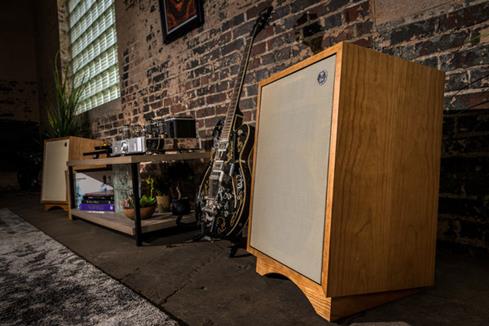 General

Enclosure

Acoustic Suspension

Finish

MDF/Wood veneer

Color

Ebony Black

Tweeter

Tractrix Horn

Tweeter Size (inches)

1

Midrange Size (inches)

1.75

Woofer Size (inches)

12

Woofer Composition

Fiber-composite

Woofer Surround

Treated cloth

Built-in Powered Sub

No

Video-Shielded

No

Connector Type

5-way post

Bi-amp Inputs

Yes

Specifications

Power Range

100

Frequency Response

58-20k Hz

Sensitivity

99 dB

Impedance (Ohms)

8

Subwoofer Amp Power

---

Height (inches)

23-7/8 (60.5cm)

Width (inches)

15-1/2 (39.37cm)

Depth (inches)

13-7/16 (33.66cm)

Weight

44 lbs
Features
3-Way Design: The Klipsch Heresy III loudspeaker features a three-way design that uses horn-loaded compression drivers for midrange and treble reproductions and a direct radiating 12" woofer for the low frequencies.
1" Tweeter (w/ Tractrix Horn): The 1" (K-107-TI) titanium diaphragm compression driver is coupled to a Tractrix Horn for smoother high-end response with greater extension, enhanced imaging, and more powerful dynamics.
1.75" Midrange (w/ Exponential Horn): The 1.75" (K-53-TI) titanium diaphragm compression driver is coupled with an Exponential Horn for detailed, accurate midrange sound.
12" Woofer: The 12" (K-28-E) fiber-composite cone woofer delivers powerful low frequencies. The 12" woofer also employs a treated cloth surround for added efficiency and flexibility.
Crossover Network: For signal purity and perfect driver integration, the crossover (HF: 5500Hz/MF: 850Hz) on the Heresy III features the finest components and Klipsch custom internal wiring.
MDF Enclosure: The Klipsch Heresy III loudspeaker employs a solid, inert MDF cabinet which minimizes panel vibrations that can color sound. The acoustic suspension (sealed) design lends itself to the speaker's accurate, natural sound reproduction. The Heresy III is available in a high-quality cherry, blonde cherry, walnut, or black ash real-wood veneer finish.
Dual Binding Post Speaker Terminals: The Klipsch Heresy III loudspeaker has two sets of binding posts connected by jumpers. Using the dual binding posts, you can bi-amp or bi-wire the speakers. The binding post terminals will accept banana plugs (single/dual), pin-connectors, spade-connectors, and bare wire.
Placement: The Klipsch Heresy III loudspeaker will perform well in a variety of locations. Corner, floor placement will deliver the highest degree of low bass reinforcement and the pre-installed slant riser base helps to compensate for the Heresy's short stature. This riser may be removed for shelf or cabinet placement. Self-stick rubber pads are supplied for attachment to the bottom of the cabinet to prevent scratching of shelves and hard surfaces. Best results will be achieved using the following general guidelines.
Place on a common wall 6' to 15' apart.
Position them equidistant from the wall behind the speakers and equidistant height above the floor (place at ear level if shelf or cabinet mounting the speaker).
Angle speakers toward the listener and even with or forward of any adjacent obstructions.
Placing them near a corner or wall provides the greatest amount of bass while moving the speakers away from room boundaries reduces bass.
Asymmetrical placement of a pair of speakers from adjacent side walls can smooth room-induced bass unevenness.
Note: Experiment with the above guidelines to suit your taste and to compensate for your room's acoustic characteristics.
USA Made: The Klipsch Heresy III loudspeaker is built to order and handmade in the USA at Klipsch's manufacturing facility in Arkansas.
---