Marantz SR5009 AV Receiver Review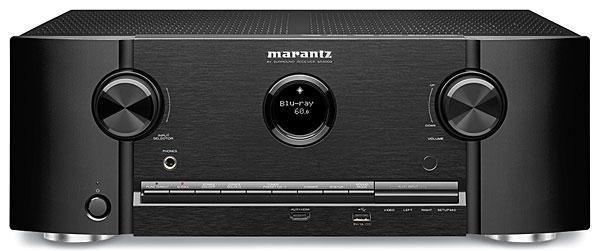 D+M has a leading role in the audio/video receiver market. It's actually an amalgamation of two former companies with markedly different (though both distinguished) histories. Denon, born in 1910 and known for a time as Nippon Columbia, was originally a manufacturer of gramophones and discs in Japan. Marantz, in contrast, was born in the U.S.A. in the early 1950s when Saul Marantz of Kew Gardens, New York, started building preamps in his home.
After numerous corporate permutations (which included a three-decade relationship between Marantz and Philips), Marantz and Denon merged in 2002 into what is now called the D+M Group. In 2014, the pro divisions of both brands were acquired by inMusic Brands, a maker of DJ equipment. However, the consumer divisions continue to market AV receivers and other audio products under the D+M umbrella.
Atmos, No. Triple Wireless, Yes.

The SR5009 ($899) is one of three new Marantz AV receivers, also including the more powerful SR6009 ($1,299) and Dolby Atmos–capable SR7009 ($1,999). No, the 7-channel SR5009 doesn't include Atmos decoding—with the exception of Onkyo, which offers three 7.1-channel Atmos-compliant models, AVR makers have chosen to focus their initial Atmos efforts on 9- and 11-channel models that can drive a minimum of four height speakers along with the basic 5.1-channel configuration. But this receiver does offer what I call the wireless triple threat—Wi-Fi, AirPlay, and Bluetooth—and they're all free of awkward extra-cost dongles. That potentially saves you hundreds and boosts our value rating.
Marantz receivers have a unique convex-curved front panel with a small porthole display. Some models augment the porthole with a larger display hidden behind a flip-down door, though this receiver does not. If you depend on the front-panel display, the porthole's modest size might be a limitation. The buttons (for sound mode, zone, dimming, etc.) that normally would be behind the door are instead beneath the porthole in plain view, reduced to slivers to avoid marring the clean visual design.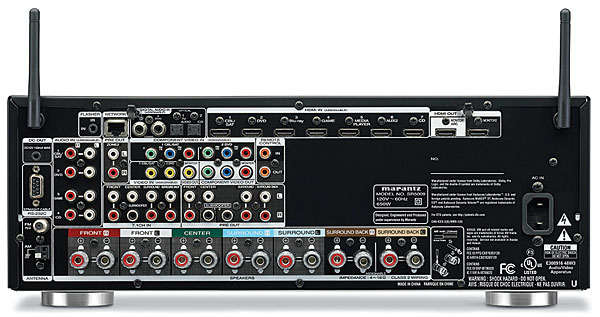 This $899 receiver offers a fuller back panel than, say, a typical $600 model does. There are eight HDMI inputs and two outputs, version 2.0, but minus the HDCP 2.2 digital rights management used for UHD. This is hardly unusual for most 2014 AVR models, but it isn't an easily ignored omission, either. While it's hard to know exactly what ramifications this might have for the passthrough of Ultra HD content, it's clear that at least some future streams and probably the upcoming UHD Blu-ray Discs (now scheduled to appear by the end of 2015) will be encoded with HDCP 2.2, and even HDMI 2.0-compliant models today that lack this latest copy-protection scheme would likely block such signals. The impact of this on your buying decision will depend on how critical you deem future-proofing for UHD video switching.
Also present on the SR5009 are three HD-capable component video inputs and one output. Some of our readers have expressed concern about the disappearance of analog multichannel interfaces from sub-$1,000 receivers. They will be glad to find the 7.1-channel input and 7.1-channel output (with two monophonic subwoofer connections) on this one. The multi-ins would play nice with the multi-outs on your high-res SACD disc player, and the preamp-outs would allow the receiver to serve as a preamp/processor, feeding a separate multichannel power amp. Stereo analog inputs (four) and digital coaxial/optical inputs (two each) are reasonably plentiful, so this receiver will support your two full racks of legacy components, though changing the litter boxes for your 30 cats is still a responsibility you must bear alone.
With Denon and Marantz sharing the D+M stable, it's no surprise that the SR5009 and some Denon receivers have several traits in common, including the graphic user interface (with its good-looking and highly readable font) and the slightly simplified remote control. Both brands supply cardboard microphone stands for use during auto setup, a helpful plus. Despite these similarities, the two brands have traditionally had different cosmetics and (in my experience) voicing, with Denon typically offering a more "clinical" sound and Marantz a more "euphonic" one. More on that later.
The SR5009 is rated at 100 watts per channel with two channels driven. Another Marantz tradition is to maintain 75 percent of rated power with five channels driven; see our measurements to find out whether this model measures up to that yardstick. Room correction is MultEQ XT, Audyssey's second-best system—and I consider Audyssey's second-best to be very good indeed.
In addition to AirPlay and Bluetooth, this receiver can use DLNA via Wi-Fi or Ethernet connections to grab music from a PC, network attached storage drive, or USB external drive. That includes high-resolution files such as DSD; FLAC, and WAV up to 192 kilohertz and 24 bits; ALAC and AIFF up to 96/24; and lossy MP3 and AAC. Gapless playback is supported for all formats, not just for the Apple-approved ones, and Marantz says this is an exclusive (glad I asked!). A sticker on the front panel celebrates the presence of Spotify Connect audio streaming.
Associated equipment included five Paradigm Reference Studio 20 v.4 speakers, Seismic 110 subwoofer, Oppo BDP-83 universal disc player, Micro Seiki BL-21 turntable, Shure V15MxVR/N97XE cartridge/stylus, and—a new/old addition—a Denon PRA-S10 stereo preamp serving as phono preamp. A D+M-related review seemed an appropriate time to rescue this champagne-finish beauty from the back of a closet. It was Denon's attempt to capture a slice of the high-end two-channel market in the early 1990s. Its phono stage is less colorful, but better balanced, than that of the Onix OA 21s integrated amp I mostly use for this purpose. All movies were on Blu-ray Discs with DTS-HD Master Audio soundtracks.

D=M?

I sometimes break in receivers before running their room correction systems and try not to reach any hasty conclusions. But I couldn't help noticing after a few hours that this Marantz, au naturel, seemed strikingly similar to the last few Denon receivers I've reviewed. That meant a reticent top end, quite unlike Marantz models I've known in the past. Is D+M adopting similar voicing for both lines (or homogenizing the critical innards)? Denon says no—that Denon and Marantz products are voiced and sound-tuned by two wholly separate teams, and that the SR5009 also has additional preamp circuitry (their HDAMS module) not found in Denon models.
But both brands not only sounded the same unvarnished but also reacted similarly to room correction. With Audyssey MultEQ XT in play, the room-corrected difference was startling, with remarkable gains in detail, the imaging of objects in the soundfield, and overall soundfield integrity. As I did with the last Denon receiver I reviewed, I preferred MultEQ's slightly rolled-off Reference setting for movies and the livelier Flat setting for music. Folks, I'm not complaining: This receiver sounded beautiful. Whatever D+M is aiming to do, it's working.
Homefront, with a proficient Sylvester Stallone screenplay, continues a recent uptick in the quality of soundtracks for Jason Statham action movies. If you like your motorcycles, DEA raids, shootouts, explosions, and other assorted apocalypses well integrated with clear dialogue, you'd like the way the Marantz handled this soundtrack. Audyssey's bass equalization was spot on, shaping bass above and below the sub crossover to a fare-thee-well, and seamlessly integrating the speakers and sub. One benefit of licensing Audyssey is the option of the Dynamic EQ and Dynamic Volume low-level listening modes. As afternoon turned to evening, a time of day when I like to quiet down, I invoked both modes for the movie's final half-hour, with Dynamic Volume at its lightest setting. It allowed me to adjust the volume control downward slightly.
Captain Phillips has Tom Hanks at the helm of a merchant ship, squaring off against Somalian pirates. The Marantz continued to effortlessly handle diverse soundtrack elements—tense dialogue, seafaring sounds, all the things that make you feel you're aboard a ship—and louder passages showed no sign of strain. This demo lingered even later into the evening's quiet time. As the thunderous quasi-military finale got underway, I turned Dynamic EQ/Volume back on, this time at the medium setting. This enabled an even lower volume setting, yet the soundtrack elements were so well juggled that the almost unbearable tension never abated.
After all those action thrills, the broad comedy of The Grand Budapest Hotel came as a relief. It has one of the most whimsical musical scores I've heard in a long time, which the Marantz delivered lovingly—not for the first time, I ascribe human characteristics to hardware—with loads of textural and spatial richness. Balalaikas festooned the soundtrack, and by the time the credits rolled, they had taken over completely, with the Ludmila Zykina State Academic Russian National Balalaika Ensemble executing mad dervishes all over the place.
Black Cow, White Vinyl

I recently added a Masterdisk pressing of Steely Dan's Aja to my library. (Regrettably, I can't afford the Cisco pressing that many rave about.) With or without room correction, this best-case content sounded great. I admired the amp's warm voicing, and it gave the drum kit the meaty weight it deserved, especially (of course) on "Black Cow." But as much as I liked the amp's intrinsic sound, the addition of Audyssey MultEQ XT's Flat setting solidified the imaging, opened up the soundstage, and made every instrument pop—all of which better suited the epic title track, with its warm synths, serpentine guitar solos, and climactic drum solo.
In anticipation of the vinyl box set of The Beatles in Mono, I dusted off my late-1960s Parlophone mono pressing of Rubber Soul. (A large but inaudible scratch on side one had brought it down to a price I could afford.) Combined with the newly installed Denon preamp, the Marantz receiver brought me closer to the music than ever. As well as it worked with Audyssey on, it cohered even more with Audyssey off; Marantz's amp was born to beatify the Beatles. As an extended encore, I played my late-1970s French white-vinyl copy of The Beatles (a.k.a. The White Album). Despite its inherently brighter tonal balance, it sounded more luscious with Audyssey off. My respect for the Marantz's intrinsic qualities as an amp continued to grow.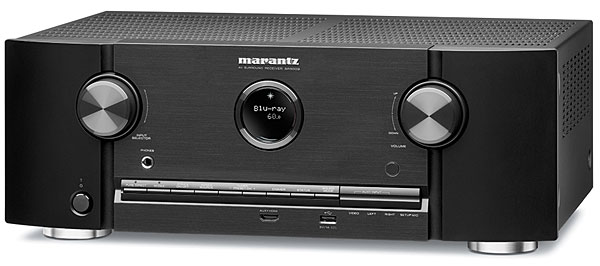 The Marantz showed off its rhythmic virtuosity and tonal richness in John Cage's Complete Music for Prepared Piano, a three-CD set from Giancarlo Simonacci. The pianist faithfully reproduces Cage's manipulation of the piano with nuts, bolts, nails, wood screws, pennies, bamboo strips, and weather stripping placed on, between, or under the stretched metal strings. So many of these sounds have been synthesized and tossed into movie soundtracks that they now seem comfortingly familiar.
A less than adequate system might lead you to believe that the sounds on these CDs are in fact synthesized. But it takes great speakers, like my Paradigms, and a solid amp to make them sound realistic and somehow that much stranger. The Audyssey room correction was a great help, bringing out the weird textures of the tortured piano strings. Turning off the room correction deprived them of their incredible complexity and beauty.
The Marantz SR5009 is a solidly engineered surround receiver with an inherently good-sounding amp and the kind of room correction that takes the amp to the next level. The multiple presences of Wi-Fi, AirPlay, and Bluetooth are necessary concessions to the way people listen now, though this receiver also accommodates old-fashioned disc-spinning listeners with the kind of performance that makes a hard-copy music library worthwhile. Once, I came this close to adopting a somewhat beefier Marantz as my reference receiver. The brand's reputation for delivering great sound continues to be well earned.
Specs

Power Output: 7 x 100 watts (8 ohms, 2 channels driven)
Auto Setup/Room EQ: Audyssey MultEQ XT
Video Processing: Analog Devices NatureVue 4K scaling/passthrough
Dimensions (WxHxD, Inches): 17.3 x 6.3 x 13.4
Weight (Pounds): 33.1
Video Inputs: HDMI 2.0 (8), MHL-enabled HDMI (1), component video (2), composite video (2)
Audio Inputs: Coaxial digital (2), optical digital (2), stereo analog (5), 7.1-channel (1)
Additional: USB (1), Ethernet (1), Wi-Fi antenna (2), IR remote (1), remote (in/out), AM (1), FM (1)
Accessory: DS-A5 AirPlay dock (optional)
Video Outputs: HDMI 2.0 (2), component video (1), composite video (1)
Audio Outputs: Stereo analog (1), 7.1-channel pre-out (1), ¼-inch headphone (1)
Additional: RS-232C (1), 12-volt trigger (1) Price: $899
Company Info
Marantz

(201) 762-6500
us.marantz.com
Test Bench
Two channels driven continuously into 8-ohm loads:
0.1% distortion at 111.7 watts
1% distortion at 129.8 watts
Five channels driven continuously into 8-ohm loads:
0.1% distortion at 72.9 watts
1% distortion at 88.7 watts
Seven channels driven continuously into 8-ohm loads:
0.1% distortion at 68.5 watts
1% distortion at 81.0 watts
Analog frequency response in Pure Direct mode:
–0.16 dB at 10 Hz
–0.04 dB at 20 Hz
+0.02 dB at 20 kHz
–2.74 dB at 50 kHz.
Analog frequency response with signal processing:
–0.32 dB at 10 Hz
–0.10 dB at 20 Hz
–0.03 dB at 20 kHz
–61.06 dB at 50 kHz.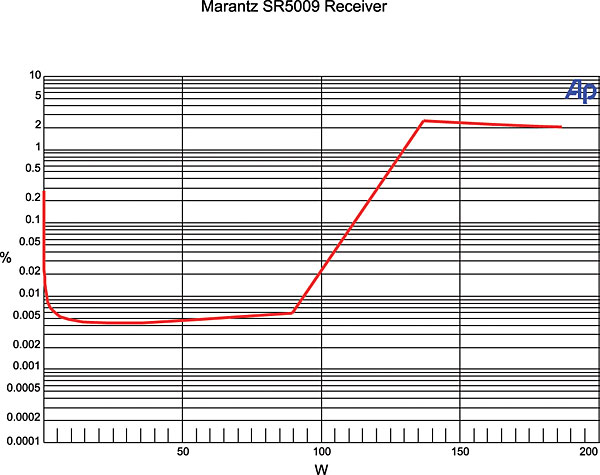 This graph shows that the SR5009's left channel, from CD input to speaker output with two channels driving 8-ohm loads, reaches 0.1% distortion at 111.7 watts and 1% distortion at 129.8 watts. Into 4 ohms, the amplifier reaches 0.1% distortion at 182.7 watts and 1% distortion at 203.9 watts.
Response from the multichannel input to the speaker output measures –0.16 dB at 10 Hz, –0.04 dB at 20 Hz, +0.01 dB at 20 kHz, and –2.76 dB at 50 kHz. THD+N from the CD input to the speaker output was less than 0.009% at 1 kHz when driving 2.83 volts into an 8-ohm load. Crosstalk at 1 kHz driving 2.83 volts into an 8-ohm load was –83.16 dB left to right and –87.25 dB right to left. The signal-to-noise ratio with an 8-ohm load from 10 Hz to 24 kHz with "A" weighting was –103.74 dBrA.

From the Dolby Digital input to the loudspeaker output, the left channel measures –0.04 dB at 20 Hz and –0.07 dB at 20 kHz. The center channel measures –0.04 dB at 20 Hz and –0.08 dB at 20 kHz, and the left surround channel measures –0.04 dB at 20 Hz and –0.10 dB at 20 kHz. From the Dolby Digital input to the line-level output, the LFE channel is –0.01 dB at 20 Hz when referenced to the level at 40 Hz and reaches the upper 3-dB down point at 109 Hz and the upper 6-dB down point at 117 Hz.—MJP
---