Nevertheless, the newest Onkyo is indeed a Class D design. The marketing materials refer to it as "Onkyo High-Current Digital Amplification," which raises my hackles slightly since Class D isn't "digital" in the digital-audio sense, but that is discussed in my recent online article about amplifiers (found at soundandvision.com). The TX-RZ1100 does have, however, a fully nine-channel layout, rated at 140 watts each with channels driven in pairs. That's a lot of pretty substantial channels for any receiver, whatever the topology, and it explains both the unit's overall heft and the weighty-on-its-own, rather un-Class-D-like power transformer I found residing inside.
The TX-RZ1100 presents Onkyo's next-gen front-panel layout, with most controls in a 3x5 grid of pushbuttons to one side (the right, with the unthinking discrimination against the left-handed minority, a practice so common in industrial design). Below is a huge knob for volume; on the other side are two smaller ones, each with an associated button, for listening mode and tone control. Audio elders like myself are liable to grab those smaller knobs and twist without first pushing the associated button, wondering why the bass and the treble aren't changing—especially given that the tiny identifying graphics are all but invisible without Holmesian flashlight (er, torch) and magnifying glass. Onkyo retains from earlier models a massive drop-down door revealing the remaining controls and jacks, something that A/V receiver makers apparently agreed upon collectively years ago as a design requirement.
Rack It
Unboxing and installing the TX-RZ1100 made no special demands other than exercising a bit of care in doing the clean-and-jerk to get it atop my long-suffering equipment rack. Onkyo's design incorporates a pair of legacy composite-video inputs (but no corresponding output; the receiver transcodes to component video or HDMI). Not surprisingly today, it does not incorporate any S-video paths. One thing you will find, however, are full 11.2-channel preamp outputs, which would allow the TX-RZ1100 to drive a 7.2.4 Atmos/DTS:X system with an additional outboard stereo amplifier. Another connectivity note: Onkyo chose European safety-standard-compatible spacing for the medium-duty multi-way posts used for all channels' speaker outputs, which means that U.S.-style, 0.75-inch dual-bananas don't fit.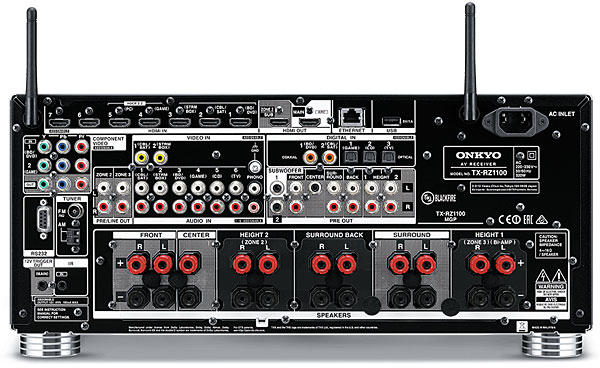 Rats. Nevertheless, I connected my 5.1.4-channel, Dolby Atmos–ready speaker layout, which includes a pair each of "ceiling-bounce" elevation modules for the front and the rear, without other incident. I then plugged in my source and screen HDMI cables and moved on to auto setup.
Onkyo, like several other brands, has abandoned Audyssey MultEQ setup/equalization options in favor of the company's own proprietary technology, dubbed AccuEQ. This proceeds along similar lines: There's a supplied mini-microphone you plug into the receiver and place at the listening position, which collects speaker- and room-response data from the internally generated clicks and noise bursts the receiver then emits. Onkyo's onscreen prompts and graphics are simple and easily followed. However, there's no display, either tabular or graphical, of the corrections thus derived. And whereas Audyssey collects data from as many as 8 or even 16 different mic positions, depending on the level of MultEQ (each with, presumably, a corresponding level of licensing fee), AccuEQ, at least as implemented in the TX-RZ1100, takes measurements from only one position at the primary listening chair. I am not enough of an acoustician or a digital-filter designer (not hardly!) to damn or bless either system. But my general sense, absorbed from those who know a lot more than me (admittedly, not terribly difficult), is that the more positions you measure from, the larger the area over which you obtain a picture of room effects you can potentially calculate and thus attempt to correct.
In my room, which acoustically is pretty good to begin with, AccuEQ's effect was fairly subtle. On the top end, the process yielded a very slightly brighter impression, or perhaps a touch more focus or sharpness on treble-rich elements like percussion, strings, and brass. In the lower octaves, AccuEQ made a more noticeable difference, raising the level of and tightening the bottom octave and a half or so, in a fashion I found pleasing at my preferred subwoofer level, which is usually a few decibels below "flat"; if I left the sub at the 0-dB point determined by the auto setup, this was a bit too rich for my taste. In any case, since the impact of any auto EQ will always be hugely dependent on the room and the system, I performed the bulk of my evaluations with it defeated, as I always do.
Track It
Otherwise, on the sound quality front, the TX-RZ1100 scored very high marks. As customary, I started out auditioning the receiver in two-channel full-range mode, with my Energy Veritas 2.2 monitors flying solo (well, duo). Here, I found the Onkyo's overall presentation to be nicely detailed, especially on transients like cymbals or brass attacks, and capable of ample definition on even the most complex music. The Yoichi Murata Orchestra's Compositions (96/48 FLAC) is one of my go-to reference recordings for detail and dynamics. On this receiver, the big-band attack was outstanding, with solid soundstage depth, palpable transient air, and sharply etched textures all in evidence.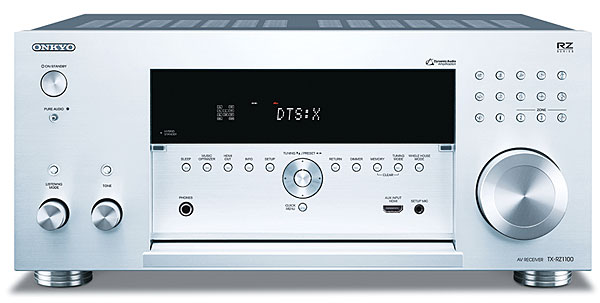 I was impressed by the Onkyo's dynamic output in every mode, including multichannel music. A recording like Bobby Womack's Soul Sensation Live (96/24, on an ancient DVD-Audio disc from Silverline) makes significant demands in almost every octave, yet it sounded open and easily punchy, especially on an up-tempo track like "Inherit the Wind." Bottom-end grunt was impressive, too. My little Energys go solidly to below 40 hertz, so the system still had plenty of output there to paint an honest picture. Returning to full-range stereo, I cued up the peerless Bonnie Bramlett and her cover of "Cry Me a River" (an HDtracks HRA file), listening for the D-extension double bass. The lowest note on a bass viol is usually E-natural at about 41 Hz. But with the extension, it goes down to E-flat at about 36 Hz—and through the Onkyo, it sounded gorgeously full, woody, rich, and vibrant. All of this is noteworthy because these Energys love power. They sound fine with an honest 65 watts, but the more (and more dynamic) power you feed them, the better and higher-end they sound, and the TX-RZ1100 met the challenge.
As for movies: same deal, only more so. After checking my usual rotation of scenes and finding no problems with dialogue quality, surround integrity, or dynamic ability, I cranked up the Atmos soundtrack of Star Trek: Beyond. I stopped at 4 dB below the THX cinema reference because ref level is simply too damned loud in my room—and even this was a few decibels louder than my usual preference, even for big-action movies. (Oh, the sacrifices I make in the name of science.) As an aside, this umpteenth Trek flick looked downright fabulous upscaled to 4K by my Oppo BDP-105D (with my chair moved up to about 6 feet from my 55-inch screen), especially in the countless ridiculously elaborate sets, both physical and CGI. But can someone explain why all the aliens' makeup looked so Halloween-store rubber-mask cheesy? A conscious throwback to the original TV show? Or simply the limitations of physical versus virtual modeling? I'd like to know.
Oh yeah, the sound: faultless. There were almost too many sonic highlights to pick just one, but it would be hard to outdo the long battle sequence in chapter 10, which has it all: dynamics, numerous height cues for Atmos to show off its stuff, dialogue over boisterous scenes, wide-stage music, and more. And the TX-RZ1100 aced them all without any evident stress. In quieter scenes, like the final chapter, I was equally taken by deep, multifaceted ambience and fine detail on Foley cues like clinking glasses and clicking heels. No question, the new Onkyo is easily up to the demands of movie sound in a home theater. Beyond abounds
in busy, noisy scenes, and when I temporarily reengaged AccuEQ, the added high-frequency content made them sound distinctly brighter. I preferred my system with AccuEQ defeated, and I instead engaged THX Re-EQ, a very gentle top-octaves down-tilt to mimic the acoustic response of a large theater and screen. (Even now I think Re-EQ is one of the most valuable THX features.) But again, every system and room will be very different.

The TX-RZ1100 happily streamed all of my hi-res files via wired Ethernet and Wi-Fi alike, including DSD, AAC, and PCM and FLAC up to 192/24. Well, most of my files; I experienced a few instances of DSD click-glitching, but only on a couple of files. I've played these same files successfully via some devices, but they've glitched or failed to play on several others besides the TX-RZ1100. My only conclusion, to state the obvious, is that streaming DSD can be tricky. Maybe these files are corrupted; maybe some DSD decoders' error correction is better than others. I simply don't know. Musically, the receiver sounded great in all cases, leaving me particularly pleased by the timbral and dynamic detail of the Suite for Fiddle and String Orchestra by Norwegian composer Gjermund Larsen (music that suggests what Aaron Copland might have produced had he developed a serious amphetamine habit). The textural transparency and the screech-free bite and resonance on strings from this Nordic DSD download were noteworthy.
Hack It
Most all of the expected extras are aboard the TX-RZ1100. These, of course, include Dolby Atmos and DTS:X, plus a handful of the usual "Orchestra" and "Unplugged" modes nobody ever uses. (Do they?) Unusually, you can configure both a powered zone 2 in stereo and a powered zone 3. (The first can exploit the HDMI 2 output; HDMI is the receiver's only video-output format.) These are distinct from FireConnect wireless multiroom capability built into the unit. And let's not forget the usual iOS/Android control apps.
The TX-RZ1100 can scale 1080p to 4K—this looked fine, by the way—but then so can your 4K TV, obviously, and the TV's own onboard scaler is very likely nondefeatable, so this is of dubious value. There's a Super Resolution mode that's said to provide a more "4K-like" picture from regular HD sources. Enabling/defeating this requires a 15-second round trip to and from the picture-blanking main setup menu, so direct comparisons weren't very practicable. The setting may have amped up video dynamic range (or at least white level) a touch, but I don't think I noticed much else.
The Onkyo's streaming résumé is, at least on paper, extensive. On the wireless end, Bluetooth and Apple AirPlay both worked as expected from my iPhone and sounded as usual, with AirPlay obviously the superior choice. But three additional options—Google Cast, Spotify Connect, and the aforementioned FireConnect multiroom wireless—are all awaiting a firmware update. Late in my tenure with the TX-RZ1100, Onkyo pushed an update that added Deezer and Tidal streaming services. (On my first attempt, performing the update via network connection crashed the receiver almost immediately, leaving me trembling with angst that I'd bricked the thing—and with a print deadline looming. But the receiver powered back up normally, and a second attempt proceeded smoothly. Welcome to the connected life.)
FireConnect is yet another of the wireless-multiroom protocols fighting for oxygen in that busy, Sonosdominated space. It looks great on paper—HRA streaming up to 192/24, and multichannel capable—but the only clients I could find yet in evidence or mentioned on the net were a couple of small Harman/Kardon portables that hardly seemed up to real hi-res repro, and the only other companies listed on technology-parent Blackfire Research's site as "partners" were Onkyo itself and corporate sister Pioneer. What's more, Onkyo recently announced support for DTS Play-Fi wireless-multiroom, which seems to be gaining traction rapidly. This is promised to "expand into 2017 models," though there's no mention of Play-Fi in any TX-RZ1100 materials I could find.
Onkyo ships the receiver with the company's familiar, full-size remote. It has a decent, solidly usable layout, but it's completely unilluminated, which seems rather a pinch for a $2,199 receiver. It's also dedicated—no system-remote options to control other components. Onscreen menus are simple, text-based displays, and they're clear and easy to use. I particularly favored the Quick Menu button that brings up immediate access to a Level menu for easy trims of center or sub (but not, alas, surrounds or heights). The full-screen setup/parameter menu is very slow to display and recede (3 to 4 seconds on my TV) because it displays in 720p, and thus the screen must re-sync on every appearance. But this is a fairly infrequent trip, so not a very big deal.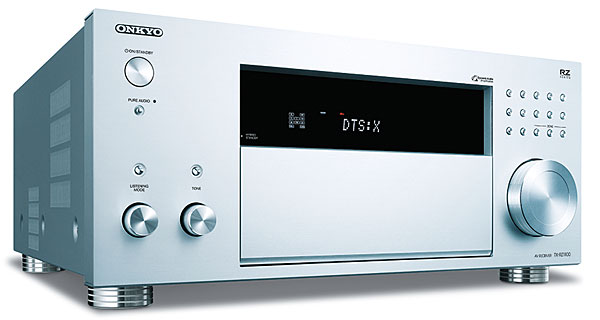 A slightly bigger deal, at least for me, is Onkyo's approach to owner's manuals. The "Basic Manual" packed in the box tells you how to hook up, turn on, press play, and select surround, all of which it does quite nicely. But the online "Advanced Manual" (a link is printed, rather coyly, in small print on the Basic's cover) is disappointing. It's far from complete, poorly hyperlink-organized, and not searchable. I'd have much preferred a full, detailed manual in PDF format, like the ones that Onkyo produced for earlier generations.
The Sum-Up
In matters both audio and video, Onkyo's TX-RZ1100 is a very fine receiver, with its multichannel amp—fully nine channels and thus ready for 5.1.4 Dolby Atmos and DTS:X—winning special mention for power and dynamics. But while it's true that manufacturers are all charging substantial premiums for nine-channel power compared with their seven-channel, "minimum-Atmos" models, and especially for models like this, offering 11.2-channel processing, you can also find 9.2 offerings now for substantially less coin. Of course, these may not equal this Onkyo's genuine power prowess. And when the TXRZ1100 is updated to fully operational status, and we get a handle on its remaining features, it may very well shine brighter still. Whether you can justify the premium is a decision you alone will have to make, but if you choose to ante up, you'll at least know where the extra money went.
---